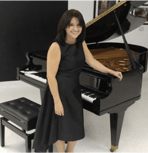 Karine Gil is a Venezuelan composer, concert pianist, piano teacher and
Ecologist Ph.D. She studied music at the National Conservatory of Music "Juan
Jose Landaeta", in Caracas, Venezuela. She has taught music and piano at different levels in Conservatories, at her own music school and piano studios in Venezuela, and USA. Currently Karine teaches piano lessons at DEGALLERY, in College Station, where love for art is combined with painting lessons.
Karine's current artistic activities include solo piano recitals and conferences with music of her own compositions inspired in wildlife and nature. Other programs include Music of Venezuela, and Spain. She has performed as a soloist with Symphonic orchestras, and has produced 4 CDs. "Venezuela Mia", "Migration", "Memories of America", and "Nature & Inspiration". She has performed piano recitals in different venues in USA, Sweden, Mexico, and Venezuela.
Karine's expertise is in ecology of birds. However, her vision is always combined with music, performing and teaching. In the summer of 2017, Karine will be on tour in Europe to perform compositions inspired by her diverse life experiences.

PROGRAM TOUR SUMMER 2017 STOCHKHOLM, MADRID, DUBLIN
Mañanitas Caraqueñas (Evencio Castellanos)
Friendship – Amigo del Alma. Composed in Nebraska, 2009. Piano and orchestra.
Sounds of the Platte River: Composed in Nebraska 2008.
From Winter to Spring, composed in Stockholm at Brunsvicken lake, Spring 2007.Piano and Orchestra.
Scenes of Maracaibo Lake, composed in Venezuela 2001.
Venezuelan Feeling, composed in Texas and Sweden 2005. Piano and Orchestra.
Winter in Stockholm. Composed at Lilla Frescativagen, Sweden. 2005
Migration. Texas 2005. Inspired in the migration of the Whooping cranes and their life cycle. Piano and orchestra.
Sevilla from the Spanish Suite, I. Albeniz.
KARINE GIL: www.karinegil.com; Phone: 979-2207189. [email protected]