Regular Classes and Workshops

Degallery offers ongoing weekly studio classes or one-time workshops in a wide range of visual arts. Whether you are a novice, emerging artist or a working artist or have an interest in traditional fine art, contemporary art or fine craft, Degallery has the perfect class for you!
Drawing Cartoons: Basics in characters, story, and animation

Class schedule : February, March, April , (3 month)
Fridays from 5.00 pm to 6.00 pm.
Price: $70/month.
All materials include

This class will be directed toward older kids and adults, ages 9 and up, who have an interest in stylized characters and cartoons.
Drawing cartoons: Looking at famous cartoonists, and drawing inspiration from them. Taking basic shapes, and making a fun character with them! Learning how to exaggerate features and bring to life a cartoony character.
Creating Story: Bringing the cartoon characters to life by doing storyboards and short comics. Practicing different poses and positions to illustrate the emotion and and action of the story. Animation: Teaching the basics of what goes into a cartoon animation. Squash and stretch, exaggeration, and how to complete an animation traditionally. Hopefully by the end the students could make a flip book animation. An actual animation, or movie, would perhaps be too difficult as that also takes a good amount of computer skills and programs.
Beginner's Drawing Class

Price: $29/class
Everyone can draw, including YOU! We have structured this foundation drawing class so that many different skill levels from absolute beginner to intermediate artist can participate. Drawing students will start the class with basic drawing exercises along with explaining your drawing materials and how to use them to your advantage. We will spend time drawing the basic forms from a still life set up using direct lighting to help you understand value. You will learn how to see these same basic forms when you draw more complex objects. You will learn about proper proportions and relationships. We will cover eye level and foundation perspective, explore line and values, direct lighting and cast shadows as well as soft and hard edges. You will be given lots of one on one instruction with plenty of demonstrations to guide you through the different elements of good drawing.
Figure Sculpture
for teens and adults Instructor – Artist Prof. Dmitry Koustov (world-class sculptor and artist)

Price: $145/month
The plan for the sculpture camp is to develop sculptural skills in students, to learn how to work with different sculptural materials, to learn about the history of sculptural arts, and to incorporate basic principles of aesthetics into sculpture. All levels welcome.
All Materials included.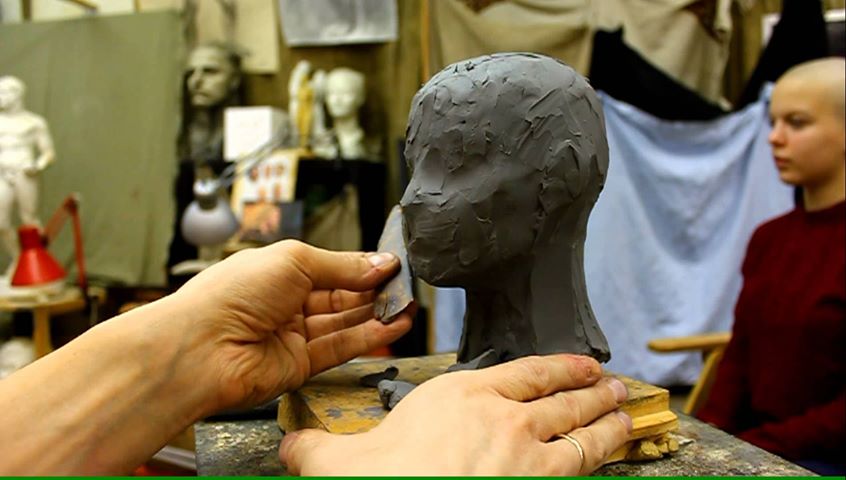 Floral Painting class
for teens and adults

Price: $35/class
Many artists want to paint flowers but are overwhelmed by the complexity of the subject. The forms are complicated and it can be confusing. In this workshop students will learn how to paint the floral with confidence. Our Artist will teach the skills necessary to capture the essence of the flower by guiding you through the process from start to finish. Using both conceptual and observational rendering skills, each student will learn to plan several steps ahead with special attention paid to lighting effect. Learn through in-depth demonstration and hands on personal instruction in this exciting workshop. ​
All levels welcome.
Beginner's Pastel
for teens and adults (12+ years old)

Price: $35/class
Calling all beginners who are eager to express themselves and have a ton of fun in the meantime! Pastel drawing for beginners is the perfect way to express your true self in color while feeling relaxed, fulfilled and inspired. Raved about as the #1-Rated art studio in AGGIELAND, Degallery offers pastel for beginners for all ages and levels. In our welcoming and warm, inspiring art studio, you will learn a wide range of artistic chalk and oil pastel for beginners through personalized instruction and small art class sizes. Celebrate the freedom of your authentic self-expression while you simultaneously learn endless pastel for beginners techniques that will strengthen your inner-artist. From color blending, color mixing, composition, and texture to still life, famous artist inspiration (think Picasso and Matisse!), landscapes, portraits, and more, unleash your creative spirit with the helpful guidance of expert, professional art instructors while you deepen your knowledge of pastel drawing for beginners. While many art studios are rigid and intimidating, our unique learning approach in every class geared towards pastel drawing for beginners offers one-on-one, tailor-made instruction to each and every student according to your personal needs and interests. Our DEGALLERY art classes in pastel drawing for beginners are non-judgement and very encouraging, and students tend to learn very quickly because of our unique teaching approach to pastel for beginners.
All levels welcome.
Watercolor Painting

Price: $35/class
Watercolor classes are the perfect way to ignite your inner-artist and express yourself through painting! Enjoy this inspiring journey of watercolor painting classes with DEGALLERY #1-Rated art studio at AGGIELAND, and learn a wide variety of watercolor painting techniques that will send your creative spirit soaring. In our watercolor lessons for beginners and intermediate levels, you will explore, learn, and enjoy:
• Watercolor painting techniques including gradated washes, wet on wet painting, wet on dry watercolor painting, dry brush, variegated washes, splattering, watercolor dripping , glazing, color mixing, and more!
• One-on-one, tailor-made, expert watercolor painting instruction by a professional artist and teacher
• Demonstrations and step-by-step watercolor lessons
• Painting a variety of subject matter, including landscape, still life, and abstraction throughout your watercolor classes
• Receive the scientifically proven health benefits of watercolor painting classes including relaxation, stress relief, increased memory, and increased satisfaction
• Learn how to combine watercolor painting techniques with your own authentic self-expression in watercolor painting classes All levels welcome.
All Materials included.