Regular Classes

Welcome to your child's favorite part of the week
The #1-Rated Art Classes in AGGIELAND for Ages 2 – 102. The DEGALLERY offers nurturing and creatively FUN Children's Art Classes and Teen Art Classes in College Station, art birthday pARTies, and MORE! Geared towards kids and teens of all ages and artistic levels, our Children's and Teen Art Classes in College Station combine artistic technique with authentic self-expression. We provide an entertaining, educational children's artistic experience that inspire the artist within!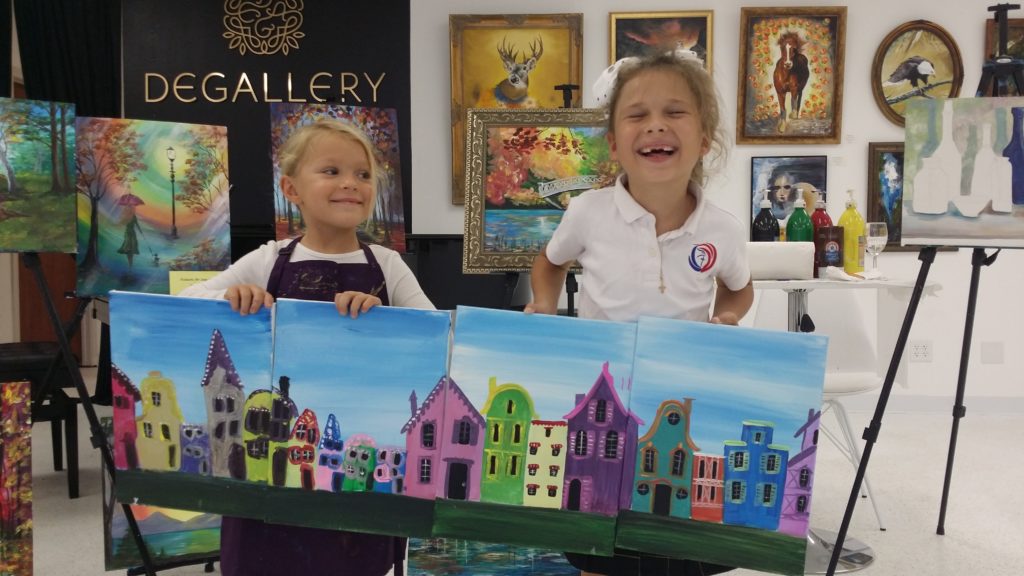 All kids, without exception, are born talented, and every talent should be cherished from early childhood.
No matter what field your kid would choose in future, whether to become a famous engineer, a doctor, a scientist, a home-maker or someone else, learning how to think, to dream, to plan and to create from early age is a great start.
We want your kid to develop these skills and help think creatively, which also benefits during the school years.
The goal of our method is to arrange educational practices in the most interesting and benefiting form and to promote the comprehensive development of every kid.
At the end of the semester we organize a Festival – Exhibition, displaying works of your kids in our gallery.
2020
SUMMER & FALL CLASSES From June 17 to December 30
*Maximum 8 students per class
Magic Fingers
2.5 -4 years
Monday
5.30 pm – 6.00 pm
Wednesday
6.00 pm – 6.30 pm
Saturday
9:00 am – 9.30 am
Young Talents
4 – 7 years
Monday
Tuesday
5.00 pm – 5.45 pm
Thursday
4.00 pm – 4.45 pm
Saturday
10.00 am – 10.45 am
1.00 pm – 1.45 pm
Artists
7 years & up
Monday
4.30 pm – 5.30 pm
Tuesday
4.00 pm – 5.00 pm
Wednesday
5.00 pm – 6.00 pm
Thursday
5.00 pm – 6.00 pm
Saturday
10:00 am – 11.00 am
(instructor Dmitry Koustov)
Teen Art
11 years old & up

Friday
Fashion design
5:00 pm – 6:00 pm

Drawing Cartoons class
6:00 pm – 7:00 pm
Saturday
11.00 am – 12.30 pm
"If you have a group of kids interested in a particular class time that is not listed, let us know and we will see what we can do!
We need to have at least 2 kids to create a new class. We are open to suggestions!
You can make online payment for regular kids classes or pay by cash/check/credit card on the 1st day of regular class session."
Our art classes for kids, teens, and toddlers nourish each child creatively and individually, based on your needs.
We keep our children's art classes in Degallery small. Expert one-on-one art instruction is tailor-made just for your child. Our Upper West Side kids art program offer:
After-School Art Classes
Children & Teen Art Camps
Creative Birthday pARTies
Private Art Lessons
In-home art lessons and birthday pARTies
Toddler Art Classes
and MORE!
Our Kids Art Classes and our Teen Art Classes at DEGALLERY create the opportunity for your child to explore their unique creativity through drawing, painting, realism, abstraction, portfolio development, and more! ALL instruction is tailor-made for each child's needs and interests in our kids and teen art classes!
Tuition is paid monthly, on the first day of the each month.
Students are automatically enrolled each month until the session end. You may withdraw at any time throughout the year. There are no tuition adjustments for missed classes.
Make-ups must be done 30 days from the date that the class was missed and can NOT be carried over to a new session.
You can make payment online or pay by cash/check/credit card on the 1st day of regular class session.
We provide all the materials needed in class.