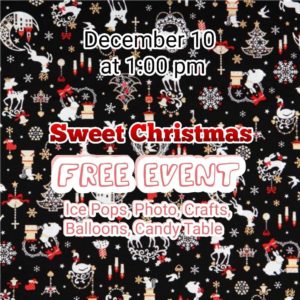 Howdy friends! You are invited to a free event on
Sunday, December 10th from 1:00 pm to 4:00 pm.
There will be Christmas photos, crafts, ice pops, balloons, candy table and so much fun.
We will also have raffles of one package of 25 ice pops, certificates for a free painting class, a decorative picture, a 36 inches giant balloon, 12 inches balloon bouquet, and a candy table for 100 people. You can be the lucky winner of one of these wonderful prizes.
Come with all your family and friends. The event will be held at Degallery, 702 University Dr E, College Station, Tx 77840
This event is sponsored by
Degallery, https://www.degallery.us
Ana Lucia Photography, https://www.facebook.com/analuphotography/
Sticks N' Pops, https://www.facebook.com/sticksnpops/
Bubblelloon Giant Balloons, https://www.facebook.com/bubblelloon/
El Antojito, Patty Guerra (El antojito)